Translation and Transcription
We can arrange the transcription or translation of your script at a competitive price.

Our previous translation and transcription clients include:

* Alifabs Monitor
* Asda
* Bluewater Bio
* Brayden Manikin
* Castorama
* Centrica
* Citrix
* Excell3
* Hertz
* Hyperkewl
* Kwik Tan
* Metropolis Recording Studios
* NHS
* Optasense
* Philip Morris
* Prolectrix
* QinetiQ
* Sherwoods Property
* Wirth Research
* Weir

Our translation costs are based on the length of text of the language that you want translated.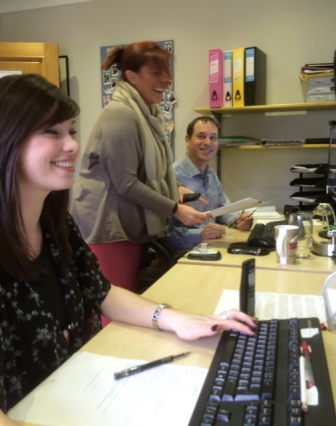 Please let us know if the translation is to be used for voice-to-picture purposes so that we can ensure the voiceover matches your picutres.

If your budget allows, we can also provide a bi-lingual voiceover director to direct the voiceover talent during the recording session.

Please bear in mind that an English text, once it has been translated into French or Italian is likely to be 25 per cent longer. For German, Flemish, Greek or Danish translations this could be 10 per cent, for Spanish, Portuguese and Arabic 20 per cent and for Japanese up to 30 per cent longer. Many other languages are similarly affected; please ask us for details.

Chinese voiceover artists can read about 200 Chinese words in one minute.

The Languages we offer for Translation

We can translate to and from the following languages:

Afrikaans
Arabic
Assame
Belgian Flemish
Bengali
Bosnian
Brazilian Portuguese
Bulgarian
Burmese
Chinese Cantonese
Chinese Mandarin
Chinese Traditional
Catalan
Croatian
Czech
Danish
Dari
Dutch
Farsi
Filipino
Flemish
French
Gaelic
German
Greek
Gujarati
Hebrew
Hindi
Hmong
Hungarian
Icelandic
Indonesian
Italian
Jamaican
Japanese
Kannada
Kazakh
Khmer
Korean
Laotian
Latin American Spanish
Latvian
Lithuanian
Macedonian
Malay
Malyalam
Marathi
Marshallese
Mexican
Mongolian
Montenegrin
Nepali
Norwegian
Oriya
Persian
Polish
Punjabi
Portuguese
Romanian
Russian
Serbian
Sinhalese
Slovakian
Slovenian
Spanish
Swedish
Tagalog
Tamil
Telugu
Thai
Turkish
Urdu
Telugu
Vietnamese
Welsh

Our Translation and Transcription work

We translated a corporate video from English to French, Spanish, German and Italian for Brayden Manikin

We translated a corporate video from English to French, Latin American Spanish, Brazilian Portuguese, Italian, Korean and Chinese Mandarin for Weir

We translated a corporate video from English to French for Hyperkewl

We translated an instructional video from English to Czech for Kwik Tan.

We translated a two radio commercials from English to Polish for Asda. They are voiced by Ola P:


We translated a corporate video from English to German for Citrix.

We translated a training video from English to Hindi and Urdu for Philip Morris.

We translated a radio commercial from English to Arabic for Sparkle Towers by Sherwoods Property airing in Abu Dhabi and Dubai

It is voiced by Mahmoud E:


We worked on a localisation project for Hertz, translating several web videos from English into Spanish, Italian, German, French and Dutch.

We translated a video script for the Metropolis Recording complex into German, Spanish, Dutch, Italian and French.

We translated corporate scripts for Alifabs Monitor from English to Brazilian Portuguese, French, Spanish and Italian.

We worked on a huge web video project for the NHS about screening for cancer. This involved the translation from Engish to Hindi, Urdu, Gujarati, Punjabi and Bengali, followed by the voiceover recordings.

We also translated an E-Learning programme from English to French, Chinese Mandarin, Hindi and Spanish for Excell3.

Here is a video of a script which we translated from English to Italian for Centrica. It is voiced by Tony:



We translated web videos from English into Arabic for both Optasense and QinetiQ. We also translated another web video script into Russian and Chinese Mandarin for the same client.

We transcribed and translated four videos from French to English for the French retailer Castorama.

We translated a voiceover script from English to both French and Dutch for Prolectrix

We translated 3 scripts from English to Arabic for Sherwoods Property for radio commercials airing in Dubai

We translated a video script from English to French for Wirth Research.

We translated a corporate script for Bluewater Bio from English to Chinese Mandarin.

As each project is unique, please contact us to discuss your requirements.